You may have heard that an up-and-coming artist named Taylor Swift was on tour for the past several months. If you didn't, you were likely in a cave somewhere because she affected the economy, traffic, and even seismic activity wherever she went. I was fortunate to attend the concert with my Swiftie teenager seen singing in the video above.
The current state of the real estate market reminds me of her song, Cruel Summer, with buyers as the heroine crying "like a baby coming home from the bar" and inventory as the love interest looking "up grinning like a devil."
Why is inventory still so low?
With interest rates in the 7% range, it doesn't make sense for sellers to sell unless they absolutely have to (ie. Relocating, divorcing, loss of job, downsizing, etc.). 87% of Californians who have a mortgage have rates of 5% or less, so sellers aren't selling. Plain and simple.

The inventory started off in January 46% below the 3-year average before COVID (2017 to 2019). The difference grew as the year progressed, and the supply failed to rise much at all. Today is 63% lower than that average, sitting at 2,475 homes compared to 6,753 when Orange County felt normal. Today's level is the lowest inventory for a start to August since tracking began in 2004, even slightly lower than 2021. The low supply in 2021 led to a historic low start to 2022. Similarly, if nothing changes for the remainder of the year, 2024 may break that record low.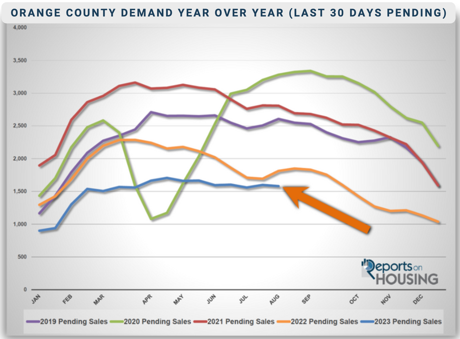 Demand has been squeezed by both sky-high mortgage rates and a lack of available homes to purchase. This combination has resulted in demand readings at record-low levels all year. From January through July, demand has remained at its lowest level since Reports on Housing began tracking in 2004. Current demand is at 1,580 pending sales, down 13% compared to last year, and down 40% compared to the 3-year pre-COVID average of 2,630 pending sales.
Low demand has led to the lowest monthly closed sales since tracking began in 2004. Through July, there have been only 11,577 closed sales, down 26% compared to last year, and 34% compared to the 3-year pre-COVID average of 17,434 closed sales.
In terms of closed units, housing is experiencing a recession. Nearly anyone that works within the real estate industry, from REALTORS® to mortgage lenders to inspectors to termite companies, has felt the impact of fewer sales and transactions.
Who is benefiting from the current state of the market?
In terms of values, the homeowner is definitely benefitting from this lack of inventory.
Sellers who decide to put their property on the market are once again seeing multiple offers which is driving prices up. The days it takes to sell a home is nearly half the time it was at this time last year. While home values are still not quite what they were in April of 2022, they are getting pretty close, at least here in South Orange County for homes priced below and around $2 million.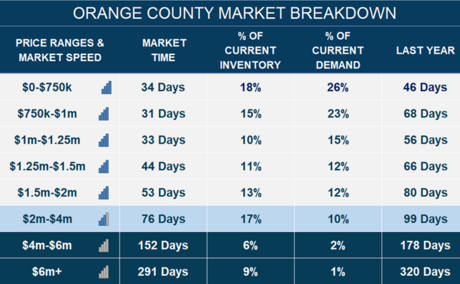 Many analysts predicted that rates would go down by the end of this year, but as we roll into mid-August, they haven't really dropped. And that is actually a good thing for buyers waiting on the sidelines for rates to drop. Why? Because as soon as rates start to drop, prices will likely increase - unless inventory increases. So we are in a chicken/egg situation.
As a buyer, your best bet is to buy a property now at albeit a higher interest rate, but a lower purchase price. As a homeowner, you can never change the price at which you purchase a property. But you most definitely can change the interest rate of your mortgage. For example, if you close escrow on a $1 million property at a 7% interest rate today and rates go down to 6.5% tomorrow, two things will happen:
The value of your property will increase because buyers will have more purchasing power and comparable homes will sell for more

You will be able to refinance your mortgage at a lower rate (typically you do have to wait 6 months to refinance but check with your lender on rules regarding refinancing)
If you are thinking of selling, buying, or both, contact me today. I can help walk you through all of your options and help you determine what the right course of action is for you. Contrary to popular belief, I am not going to always tell you to sell. In fact, in several cases over the past few weeks, I have told potential clients to look into remodeling instead of selling and buying something new. I want to help you do what's best for you.
Call me at 949-444-1601 or email me at leslie@theswanteamoc.com.
Data in this report courtesy of ReportsonHousing.com and video courtesy of Leslie Swan {hence the low-quality cinematography}