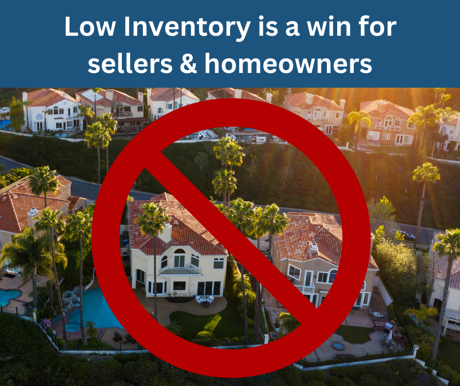 Slumping Sales and What It Means for You
Since the beginning of 2023, just 11 homes have sold in Canyon Crest. That is 27% fewer and 70% fewer in 2021 and 2022 for the same periods, respectively.
Why are sales so low?
Lack of inventory. Plenty of buyers are just waiting for the right property to come on the market. Unfortunately, there are just 2 properties currently active on the market in Canyon Crest right now. Frankly, the only reason these two active properties haven't been already purchased is because they are priced at higher price points and need updating.
Why is there a lack of inventory?
Like me, you may have refinanced when rates were at all-time lows in the 2-3% range, and the thought of losing that rate is horrifying - especially when you realize that interest rates are now hovering around 7%. That's a hard pill to swallow even if served with the finest champagne. As a result, homeowners are hunkering down even though they may want a home with different features, sizes, or locations.
The Silver Lining:
This lack of inventory is maintaining home values. While home values did drop in the second half of last year, they have steadily increased this year and are hovering just below the peak prices of May 2022. That means a vast majority of homeowners have seen a great

appreciation

in their homes.
If you are thinking of selling, now is a great time. The seller holds ALL the power. Buyers can't buy what doesn't exist. As a result, buyers are gobbling up any property as soon as it comes on the market provided one key requirement is met: The home is priced at a fair market value according to its condition in comparison to similar properties
With non-existent inventory and plenty of buyers wanting to live in Canyon Crest, there is ample opportunity for homeowners to cash in on all the equity that has accumulated over the past few years and beyond. Sellers will achieve success if they prepare their homes properly for sale and price it at fair market value. (And if they hire The Swan Team, of course!)

See for yourself what is going on in the Canyon Crest market:
What's currently for sale?
Click here to see properties that are currently active
What properties are in escrow (under contract or pending)?
Click here to see properties that are currently in escrow
What properties have sold in the past 60 days?
Click here to see properties that have sold in the past 2 months
What properties have sold in the past 6 months?
Click here to see properties that have sold in the past 6 months
Many of you have asked, "But where am I going to go?" That is a very good question. It is also something I can help with. Contact me now to create a comprehensive plan of where you are, where you want to go, and how we are going to get you there.
I don't merely market, list, and sell your home. I am a consultant who helps you understand your options, helps create a plan that accounts for your particular wants and needs, and then executes the plan with a precision that exceeds your expectations.
If you are thinking of selling your house in the next 2 years, please contact me. Now may be the best time to get the most return on your investment. Call me at 949-444-1601 to find out more information and get the ball rolling.