December 2021 Market Update
2021 has been an incredible year for real estate appreciation. Clients who bought earlier this year have already seen comparable homes sell for tens if not hundreds of thousands of dollars more than their purchase price.
How long can this last?
Supply is the main issue is affecting the real estate market. Compared to previous years, there were essentially 50,000 properties missing from the market in both 2020 and 2021.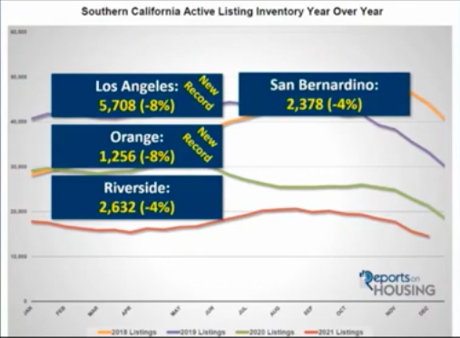 2020 started with 21,368 homes on the market in Southern California and we thought 2021 starting with 14,580 was frightfully low. However, 2022 is set to start with just 12,100 active homes on the market. As long as supply and interest rates stay low, demand will remain high and prices will continue to increase.
The demand is evident in the graph above where you can see that the average days on market is below 30 days for all of Southern California - just 20 and 21 days in San Diego and Orange Counties, respectively.
And while the average in Orange County is 21 days, the reality is that anything remotely desirable is selling even faster with multiple offers - we are talking within 4 days with 5-10 offers.
What's even more astounding is how the luxury market is exploding.
In Orange County, luxury properties are defined as anything over $1.5million. (To put things in perspective, at the beginning of 2020, luxury was defined as anything priced over $1.25million)
Many people feel that home prices can't keep going up. But there is no other place for them to go. The costs associated with leasing are at an all time high and are pushing more renters towards buying - fueling demand.
For renters/potential buyers, it all comes down to what you can afford monthly.
Taking a closer look at monthly payments and where they stand today, for a $1 million home and 10% down, a buyer is looking at a monthly payment of $3,843 at today's 3.1% rate. When rates were lower this year, at 2.75%, it was a savings of $169 per month or $2,028 per year. The 5-year savings would be $10,140.
Many expect rates to rise next year to 3.5%. That would be an additional $198 more per month compared to today, or $2,376 per year, or $11,880 over 5-years. At 4%, it would be an additional $5,448 per year, or $27,240 in 5-years. In November 2018, rates reached nearly 5%. That would be an extra $988 per month, or just under $12,000 annually. In 5-years, it accumulates to almost $60,000.
What does all of this mean?
If you are a renter/buyer, now is still a great time to buy. You will need to make sure you have realistic expectations and understand that patience is key.
If you are a seller, you are in the driver's seat and it is a great time to put your property on the market. But it isn't just as easy as putting a sign up in front of the house. Zillow tried that and failed miserably (see last month's update for more details). There is planning and work that needs to be done to ensure you get the most return on your investment, the highest sales price possible AND the most convenient terms for you (ie. when you move out, repairs, etc.).
That is where The Swan Team comes in. We are here to make the process the most profitable, convenient, and stress-free process it possibly can be. If you or a loved one are thinking about selling, please contact us. We are here to help answer any questions and are happy to share our strategies and plan for your success.
Contact us today by simply clicking on the phone icon at the top of the screen. Or you can always dial us at 949-444-1601.
Happy Holidays!