The story for real estate hasn't changed much in the past month: We still have too many buyers and not enough homes available for them to buy.
Which leads to many questions:
How long will this supply shortage last? When will prices start leveling off?
When will prices start dropping?
What about short sales and foreclosures now that people can no longer claim forbearance?
While we don't have a crystal ball about exact dates (and anyone who says they do is just guessing), we do have definitive data about forbearances and potential foreclosures/short sales.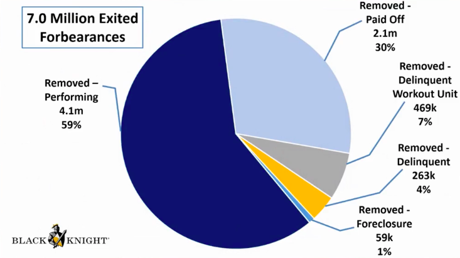 To begin with, as you will see in the chart above, 7 million forbearances have been removed - and only 1% nationwide is going to result in actual foreclosure. Why only 1%? Because in the time that people claimed forbearance, home values have increased at a higher rate than what they owe.
Let's take a home that was purchased at $750,000. In the past year and a half, the value of the house has increased by 20%, making it now worth $900,000. Even if the homeowner didn't make their mortgage payment for a year, the roughly $36,000 that they owe for those missed mortgage payments is still less than the $150,000 the homeowner has made in value. So the homeowner is still ahead by roughly $110,000. The homeowner is not in the same situation as 2009 when they hadn't made mortgage payments in a year and the value of the property had dropped by $100,000+.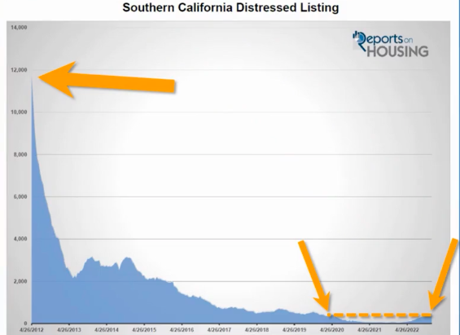 Having said all of that, there will be more foreclosures and shorts sales this year. How many exactly are we expecting? Only approximately 500 short sales or foreclosures are coming on the market in Southern California this year which definitely will not make up for the 30,000 homes missing from the market since 2019.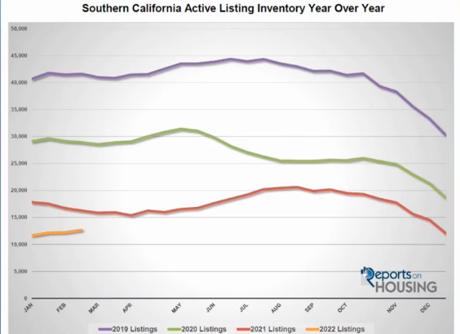 This lack of inventory has undoubtedly led to many frustrated buyers. Even with home prices continuing to increase and interest rates hovering around 4% now, buyers are not deterred. It seems unfathomable to many on just how buyers can afford the sky-rocketing home prices. But the truth is, homes are more affordable today than they even were back in 2007.
With inventory incredibly low and demand still insanely high, homes are continuing to sell faster and faster. The current average time on market for a property in Southern California is 25 days, which is just 1 day less than this time last year (26 days).The 3-year average days on market is 69 days.
As you will see in the chart below, the average days on market from going active on MLS to going under contract has hit record lows in LA, Orange and San Diego counties. It takes 3 weeks or less to sell a home in Orange, San Diego and Riverside counties, and essentially 4 weeks in Los Angeles and San Bernardino counties.
To put things in perspective, the average days on market will have to hit 90 days for prices to plateau. Days on market would have to hit 120 days for prices to start dropping. What does that mean if you are a buyer? We are nowhere near at the peak of the market and now is still a great time to purchase a home not only for its utility but also as an investment.
For sellers, this lack of inventory means they are still calling the shots with multiple offers (most well over asking price), free rent back offers, escrow closing quickly, and perhaps not making a single repair.
What to expect for the rest of 2022
Home prices and values are going to continue to increase in 2022. We won't see any changes to the market until supply starts to increase. If we were to compare the market supply to a faucet right now, we are at a very slow drip. Believe it or not, this slow drip is actually better than the flow of new listings in January - which was was bone dry. We have actually seen the largest rise in inventory this time of year since 2018 and anticipate that the flow of new listings will be at a steady trickle as we approach late March and April.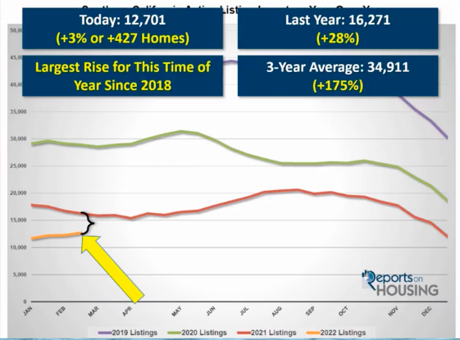 Bottom Line: There has never been a better time to buy or sell Orange County real estate. As all of us who live in Orange County know, we get a much better bang for our buck than those living in LA or the San Francisco Bay Area. (That is why so many people are moving from those areas to Orange County.) The proximity to beaches, moderate weather, high-paying jobs and lower levels of homelessness, makes Orange County a semi-hidden jewel of California.
So whether you are looking to buy or sell a home in Orange County, The Swan Team is here to make the process the most profitable, convenient, and stress-free it possibly can be. If you or someone you know is thinking about buying or selling, please contact us. We are here to help answer any questions as well as strategize and plan for your success.
Contact us today by simply clicking on the phone icon at the top of the screen or you can call us at 949-444-1601.