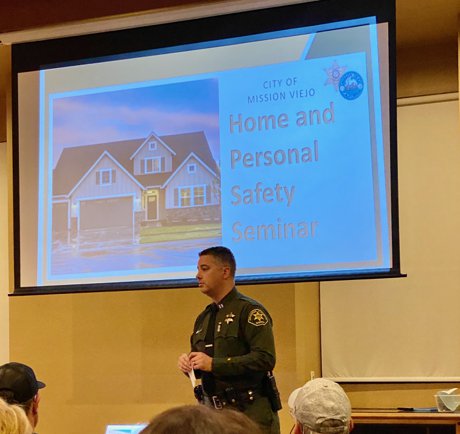 Last week I attended a Home and Personal Safety meeting presented by the Mission Viejo division of the Orange County Sheriff's Department. In the past few months, reports of home burglaries seemed to bounce around from neighborhood to neighborhood so it was wonderful to hear from the sheriffs exactly what is going on.
The OC Sheriff's Department investigator confirmed that 90% of the home burglaries in South Orange County are being committed by South American burglary gangs. I had heard this through the rumor mill and it sounded like an urban legend, but the investigator at the meeting confirmed that it is true. She also shared an interesting sidenote that 95% of the women with children begging for money in front of local stores are actually part of these burglary gangs as well. Crazy, right?!?
Even though the investigator who gave the presentation was incredibly passionate about bringing these burglars to justice, unfortunately, the Sheriff's Department hasn't been able to do much to stop these burglary gangs because apparently they move on to other cities/states within a few months or head back to South America. The Sheriff's Department indicated that the best way to ensure that you are not a victim of a home invasion or burglary is to protect yourself and your home in the following ways:
Lock it up - Ensure your windows, doors, and garage doors are secured and locked
Lock front and back doors when leaving the home
Don't leave items outdoors unattended or overnight
Collect mail and deliveries as soon as possible; shred any old mail that has any Personally-Identifying Information
Sign up for informed delivery via USPS to track incoming mail and packages
Recommend motion-sensor lights, motion-sensored cameras, and Ring doorbell
Recommend an alarm system - SimpliSafe, ADT
Garage door monitor - MyQ
Keep an inventory list with photos, receipts, and serial numbers of all your valuables


laptops, iPads, cameras, jewelry, watches, firearms

Consider purchasing a safe to store valuables

jewelry, watches, firearms, personal documents, passports, security cards, and cash

If leaving for vacation, ask a trusted family member or friend to check on the home and collect the mail

Criminals will target homes that appear to be unoccupied

OC Sheriff's Department and Mission Viejo Police Services offer free vacation home checks

Call dispatch at 949-770-6011 for an OCSD patrol check or 949-470-8433 for MVPS vacation home checks

If you see something suspicious, say something. Contact your local police department or 9-1-1 if you see something that just doesn't seem right.
Fun Fact: Did you know that you can text 9-1-1? Until this meeting, I thought you could only call 9-1-1 but, in fact, you can text the emergency number as well.
Stay Safe!