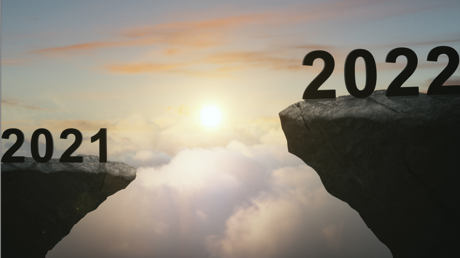 IN COMPARING THIS YEAR TO LAST YEAR, THE HOUSING MARKET IS PROFOUNDLY DIFFERENT WITH HIGHER MORTGAGE RATES, MORE AVAILABLE HOMES, MUCH LOWER DEMAND, AND SIGNIFICANTLY
LONGER MARKET TIMES.
The tell-tale signs that the market has changed are all here. OPEN HOUSE directional arrows now adorn busy intersections, and it is common to see the same OPEN HOUSE for multiple weekends in a row. The number of price reductions is rapidly growing, indicating buyers' sensitivity to pricing. Sales prices are no longer stretching tens of thousands of dollars above asking prices. The heydays of 2020, 2021, and the first few months of this year are gone. We wondered when the insanity would end and now we know. The rapidly appreciating, insanely hot housing market has transformed into a completely different, much slower Slight Seller's Market that requires a much different strategy and approach to find success.
The Orange County housing market has transitioned from an Expected Market Time (the number of days between hammering in the FOR-SALE sign to opening escrow) of 19 days in March to 72 days today. Anything below 60-days is considered a Hot Seller's Market. Below 40-days is insane, and at 19-days it is nothing short of nuts, almost instantaneous. That is where buyers trip over each other to see every home that enters the fray, sellers call all the shots, multiple offers and bidding wars are the norm, and home values uncontrollably skyrocket higher. Yet today, the Expected Market Time has risen to 72 days, a Slight Seller's Market, where sellers still get to call more of the shots, but there are fewer multiple offers, home values are not appreciating that fast, the market is no longer instant, and properly pricing is absolutely crucial to find success.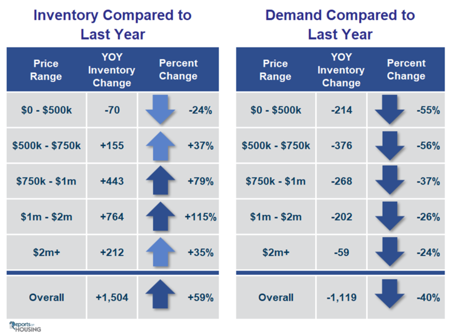 What happened in just a few short months? When mortgage rates climbed from 3.25% at the start of the year to over 6% in June, home affordability took a massive hit, buyers backed off, and demand dropped. Year-over-year, demand (the number of pending sales over the prior 30- days) is down by 40%, or 1,119 fewer pending sales. In fact, Orange County demand is at its lowest level since tracking began in 2004, slightly lower than the start of the housing meltdown in 2007.
It is down in every price range, including luxury, due to Wall Street volatility. Demand is down the most (by more than 50%) in the lower price ranges, homes priced below $750,000, where higher mortgage rates and qualifying for loans has had a deeper impact.
It took a while this year to feel the transformation in the inventory due to starting 2022 with a record low 954 homes on the market. The 3-year average start prior to COVID (2017 to 2019) was 4,665 homes. As rates continued to rise, demand diminished and the active inventory continuously rose, unabated, since January. In mid-May, there were more homes on the market compared to the prior year for the first time since August 2019. The unrelenting rise in rates slowed demand further and the inventory climbed significantly since May.
The inventory is now up 59% compared to last year, or 1,504 extra. Every price range has a lot more homes available to purchase, other than homes priced below $500,000. Due to values rising substantially over the past year, there are fewer homes worth less than a half a million dollars, thus the drop of 24%. There are significantly more homes available between $750,000 and $1 million, 79% more, or an extra 443. Between $1 million and $2 million there are more than double the number of homes that were available at the end of July 2021.
Many sellers are approaching housing as if nothing has changed. They are stretching the asking price and testing the market as if home values are continuing to rocket higher. Unfortunately, OVERPRICED homes are now quite common. An astonishing 35% of all homes available to purchase today have reduced their asking price at least once. It was at 19% in May. These price reductions are not indicative of a drop in home values; instead, it illustrates the volume of sellers who initially price their homes out of bounds, much higher than their true Fair Market Value. In the process these overpriced sellers lose out on the most valuable marketing period, the first couple of weeks after placing their home on the market.
ATTENTION SELLERS: Carefully arriving at the Fair Market Value by scrutinizing the most recent comparable and pending sales is essential to be successful, meticulously taking into consideration the condition, location, and amenities. Overzealous sellers who require future price reductions will procure fewer interested buyers, fewer offers to purchase, and, ultimately, will net less money.
Every time the housing market transitions away from a Hot Seller's Market, too many homeowners fall victim to waiting to sell. They do not understand the magnitude of the current market shift and how quickly the market has evolved so far in 2022, and where it is going from here. Many will be kicking themselves as they learn the hard way what it is like to sell in a much slower market during the second half of this year. It will be a case of "you snooze you lose," as many sellers will have an extremely hard time finding success.
ATTENTION BUYERS: While the market is slower than the start of the year, it is NOT a Buyer's Market where values are going down. Homes that are upgraded, in great condition, and priced well will fly off the market. The longer a home has been on the market, the more willing a seller is to negotiate.