The Question: What is going to slow down this crazy seller's market?
Ask any buyer what it is like attempting to purchase a home in today's housing market and the responses will be same. It is frustrating, overwhelming, exhausting, and disheartening. We know that inventory is a huge issue right now. There are half the homes on the market today than there were this time last year. In Orange County, there are approximately 2300 homes on the active market right now and there are just over 15,000 in all of Southern California.
We hear from so many people, "I am just going to wait it out."

Our answer, "You are going to be waiting for quite awhile."

Which takes us back to our question and answer. What is going to normalize or balance this hot seller's market?
We can look back at 2013 when we had a similar situation. The following graphs tell the story best.
In 2013, rates and inventory were both low for the time - similar to today. As a result, we saw prices rise quickly as demand exceeded supply. But as rates started to increase, we saw demand drop. As much as buyers don't want to pay higher interest rates, they do want to see interest rates increase if they are going to have a chance at homeownership.
To put this all in perspective, as you will see below, back in 2013, the average days on market got down to a low of about 40 days on market. Right now we are dealing with a market time of just 24 days! The direction of days of market determines the direction of home prices. As days on market decrease, prices increase - and vice versa.
Because prices have been on the rise for about 9 months, people think prices are going to have to drop soon. But here's the truth of the matter: overall prices will not start dropping until the average days on market for a property is over 120 days (or above the red line in the graph below). Notice how far away we are from that red line:
120 - 24 = Prices not dropping anytime soon.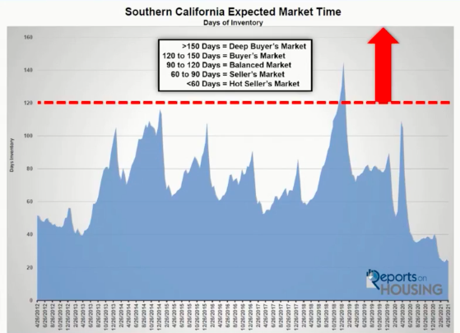 What does all this mean for you if you are buyer? It means that you need to be aggressive and secure a property now. Always keep in mind that the one you let get away will be the newest comparable for the next active listing in the neighborhood. In all likelihood, this new listing will be offered at an even higher price than the one you weren't willing to pay.
Perhaps all of this craziness deters you from buying. That's ok. The experience is part of your homeownership journey. If the stress of "overpaying" now is too overwhelming, then definitely wait. When taking into account your purchase price and interest rate in the future, you will certainly be paying more than you are today, however, if the experience is less frustrating, then it is all worth it. Know who you are as a buyer and what stress you are willing to take on.
What does this mean if you are a seller? It means that you hold all the cards - within reason. We have seen some "market testers" who are listing their properties well over market value and those properties are sitting. If you are looking to sell, first, find the right representation (duh, The Swan Team!). Then let your representation help you determine an appropriate list price that will get you a maximum return. Of course, if you are selling, you most likely have to buy a new place to live. When it comes to making offers, you have to remember those amazing offers you received. What goes around comes around in all aspects of life, including buying and selling real estate.
Want to learn more about the market in your specific area?
Contact us now!