Top 5 Trends in Housing
Now that half of 2021 is over, it is fair to say that specific trends have developed; and it's important that we learn from them.
The real estate market is one of the many hot topics discussed these days as we find ourselves looking in the rear-view mirror on COVID-19. And everyone seems to have an opinion about it. With many of us witnessing the housing crash in 2008, it's hard for people not to think that we are in a housing bubble right now and that a crash is looming. It is important to know that similar to stocks and other investments, the real estate market has its peaks and valleys. With the ever-increasing home prices, it is fair to say 2021 is a peak year for real estate. To know what is coming next, it is important to understand trends that are forming around us.
The number of available homes to purchase is finally starting to rise. The unprecedented, ultra-low inventory has been the story for over a year now. At the start of last year, there already were not enough homes on the market, and then COVID-19 made things worse when many homeowners opted to not sell their homes. Ultimately, that led to this year's anemic historically low level of available homes. In fact, today's inventory is 64% less than the 5-year average of 6,702 homes (from 2015 to 2019 excluding 2020 due to COVID skewing the data). Yet, finally, now that summer has arrived with all of its normal, cyclical distractions, the inventory is on the rise, adding 174 homes, up 8%, within the past couple of weeks, its largest gain of the year. This new trend will continue throughout the summer months.


Demand, the number of new escrows over the prior month, is on the decline after reaching a peak in early spring. Demand typically peaks between April and mid-May. This year, it peaked at the very start of April in Orange County. Many expect the market to behave differently and ignore the seasons because housing is so hot, yet society seemingly likes its routines. Spring is the hottest time of the year in terms of demand. It downshifts during the summer with the kids out of school, planned vacations, and plenty of fun in the sun. Since peaking on April 1st, demand has dropped from 3,110 to 2,906 pending sales, shedding 204, down 7%. Within the past two weeks alone, it dropped by 151 escrows or 5%, its largest drop of the year. This trend should continue throughout the summer months.


Closed Sales are at its highest level since 2005. Through the first five months of the year, there were 14,469 closed sales. Disregarding last year because COVID skewed the data (35% fewer last year), closed sales are up 22% compared to the 5-year average from 2015 through 2019, an extra 2,627. That pace is the highest since 2005. With demand continuing to outpace prior years, 2021 will be the strongest year for closings since prior to the Great Recession.


Fewer homeowners are opting to list their homes for sale. This trend started last year with the onset of COVID, but dissipated and reversed its course in August last year. When the inventory reached a record low at the start of this year, many homeowners were nervous about selling and worried that there would be nothing for them to buy after selling. Combine that with the knowledge that home values were soaring, many homeowners were more than happy to wait on the sidelines while their equity quickly grew. During the first quarter, there were 3% fewer homes that entered the fray compared to the 5-year average from 2015-2019. In April, there were 10% fewer FOR-SALE signs, 413 fewer. In May, it was 15%, or 641 fewer. In the first two weeks of June, it was off by 19%, or 405 fewer. This trend will continue as long as the inventory remains muted and mortgage rates remain at historic lows below 3.5%.


Pressure is building for mortgage rates to rise, which will impact affordability and demand. During the first week of this year, mortgage rates reached an all-time historic low, 2.65% according to Freddie Mac's Primary Mortgage Market Survey®. It reached 3.18% on April 1st, but reversed course and dropped below 3% by the third week of April. It remained below 3% until June 24th when it rose from 2.93% in the prior week to 3.02%. It had remained at 3% or lower for 8 straight weeks, but pressure on rising rates had been mounting with inflation readings climbing. Even though the Federal Reserve has been stating that the inflation is "transitory," or temporary, the U.S. economy is getting a lot hotter, and many are coming to the conclusion that the Federal Reserve needs to slow down their stimulus. They have been purchasing mortgage-backed securities, every day loans backed by Fannie Mae and Freddie Mac, since the onset of COVID. This has resulted in mortgage rates dropping by an additional quarter percent (approximately). Had COVID not occurred, rates would be around 3.75%. By year's end, they will rise towards 3.5%, and then settle around 3.75% sometime next year. Demand will fall towards trend levels from 2015 through 2019, the inventory will rise to more normal levels, and the market time will slow from its crazy levels of today to a normal Seller's Market.
The best advice for buyers and sellers: Follow an economic model that relies on facts and data rather than listen to everyone's opinions. Ultimately, an economic model will reveal trends that will help in understanding the characteristics and direction of the current housing market and properly set expectations for buyers and sellers.
Active Inventory has increased by 8% in the past 2 weeks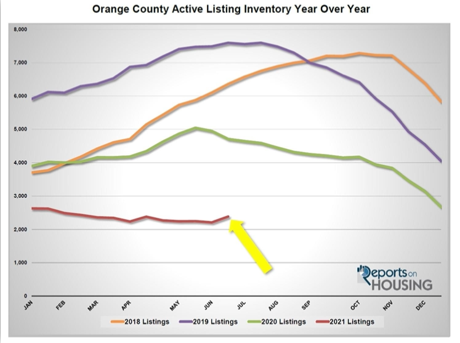 Of course, those 2,388 homes are just half of what was on the market at this time last year; but it is the largest rise in active inventory in 2021 and its highest level since February. Traditionally, the summer months are slower because of families being active with vacations and outdoor activities. The "re-opening" of California seems to have enhanced this excitement to get out of the house and go places, see things and do things. Sellers are more comfortable putting their homes on the market and allowing people to tour through them. All the homeowners who have been sitting on the sidelines since March 2020 are finally starting to list their homes.
Demand has decreased by 5% in the past 2 weeks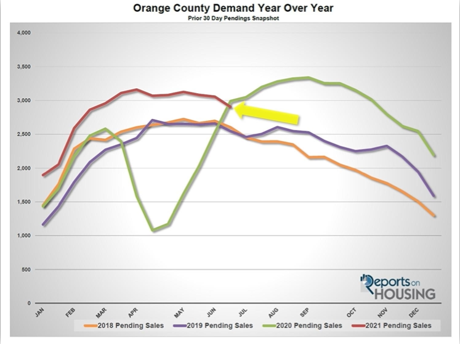 Demand dropped by 151 pending sales in the past two weeks, moving from 3,057 to 2,906; bringing demand to its lowest level since February. Again, summer is traditionally when demand starts to drop. Add the state re-opening and buyers are going to have more on their minds that just buying a home. As summer continues, buyers should find themselves in a better position than back in March or April. For example, there might be only 8 offers on a property instead of 15 or 20.
With an increase in the supply and a drop in demand, the Expected Market Time, the number of days to sell all Orange County listings at the current buying pace, increased from 22 to 25 days in the past couple of weeks, its highest level since February, but still an extremely Hot Seller's Market (less than 60 days). It was at 47 days last year and rapidly getting hotter as 2020's delayed Spring Market had begun.
What about the distressed market? Everyone asks about short sales and foreclosures.
Distressed homes, both short sales and foreclosures combined, made up only 0.4% of all listings and 0.3% of demand. There are only 5 foreclosures and 5 short sales available to purchase today in all of Orange County, 10 total distressed homes on the active market, no change from two-weeks ago. Last year there were 29 total distressed homes on the market, slightly more than today.

Have Questions?

Please contact us at 949-444-1601 or info@theswanteamoc.com.



{Thanks to Reports on Housing for this invaluable information.}